Teaser Tuesdays
is a weekly bookish meme, hosted by Ambrosia of The Purple Booker. Anyone can play along! Just do the following:
•
Grab your current read
•
Open to a random page
•
Share two (2) "teaser" sentences from somewhere on that page
•
BE CAREFUL NOT TO INCLUDE SPOILERS!
(make sure that what you share doesn't give too much away! You don't want to ruin the book for others!)
•
Share the title & author, too, so that other TT participants can add the book to their TBR Lists if they like your teasers!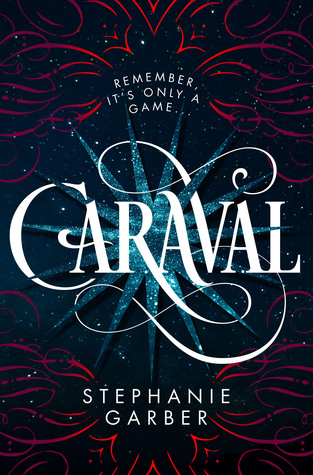 Title: Caraval

Author: Stephanie Garber

Year Published: 2017

Publisher: Flatiron Books


Genre: Fantasy

Reading Level: Young Adult
Remember, it's only a game…
Scarlett Dragna has never left the tiny island where she and her sister, Tella, live with their powerful, and cruel, father. Now Scarlett's father has arranged a marriage for her, and Scarlett thinks her dreams of seeing Caraval—the faraway, once-a-year performance where the audience participates in the show—are over.
But this year, Scarlett's long-dreamt-of invitation finally arrives. With the help of a mysterious sailor, Tella whisks Scarlett away to the show. Only, as soon as they arrive, Tella is kidnapped by Caraval's mastermind organizer, Legend. It turns out that this season's Caraval revolves around Tella, and whoever finds her first is the winner.
Scarlett has been told that everything that happens during Caraval is only an elaborate performance. Nevertheless she becomes enmeshed in a game of love, heartbreak, and magic. And whether Caraval is real or not, Scarlett must find Tella before the five nights of the game are over or a dangerous domino effect of consequences will be set off, and her beloved sister will disappear forever.
Welcome, welcome to Caraval…beware of getting swept too far away.
"Am I not allowed to celebrate now?" Tella retrieved the three slips of paper hidden within the invite. Lamplight caught their water seals. For a moment they glowed gold, like the edges of the letter, before shifting to a dangerous shade of bloody crimson.
"

Do you see that?" Tella gasped as swirls of silver letters materialized across the page, slowly dancing into words: Admit One: Donatella Dragna, of the Conquered Isles."
This book is pretty interesting so far and I can't wait to see how Scarlett and her sister Tella will make it on Caraval!

Do you have a book that you are currently reading that you would like to show to everyone else? Please feel free to post your Teaser Tuesday in the comments below and I'll check them out!