Hello everyone! "Waiting On" Wednesday is a weekly event, that is hosted by Breaking the Spine and the purpose of this event is that we spotlight upcoming releases of books that we are excited for!
This week's pre-publication "can't-wait-to-read" selection is: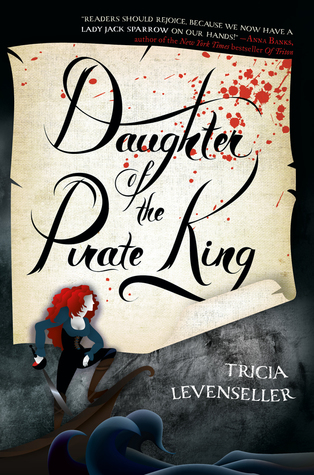 Title: Daughter of the Pirate King
Author: Tricia Levenseller

Expected Publication Date:
February 28th, 2017
A 17-year-old pirate captain intentionally allows herself to get captured by enemy pirates in this thrilling YA adventure.

Sent on a mission to retrieve an ancient hidden map—the key to a legendary treasure trove—seventeen-year-old pirate captain Alosa deliberately allows herself to be captured by her enemies, giving her the perfect opportunity to search their ship.

More than a match for the ruthless pirate crew, Alosa has only one thing standing between her and the map: her captor, the unexpectedly clever and unfairly attractive first mate, Riden. But not to worry, for Alosa has a few tricks up her sleeve, and no lone pirate can stop the Daughter of the Pirate King.

Debut author Tricia Levenseller blends action, adventure, romance, and a little bit of magic into a thrilling YA pirate tale.
A book about a pirate woman? Sounds awesome, especially since it's rare that I read novels about female pirates!
So, what upcoming books are you looking forward to? Please respond below!