Hello everyone! "Waiting On" Wednesday is a weekly event, that is hosted by Breaking the Spine and the purpose of this event is that we spotlight upcoming releases of books that we are excited for! This will also tie into Wishful Ending's Can't Wait Wednesday post!
This week's pre-publication "can't-wait-to-read" selection is: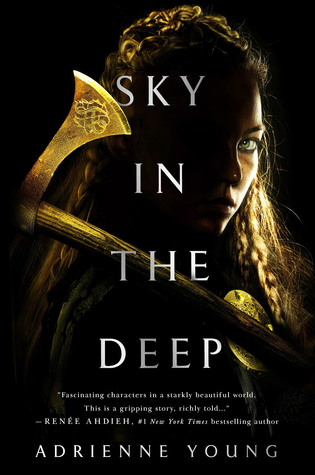 Title: Sky in the Deep
Expected Publication Date:
April 24th, 2018
OND ELDR. BREATHE FIRE.

Raised to be a warrior, seventeen-year-old Eelyn fights alongside her Aska clansmen in an ancient rivalry against the Riki clan. Her life is brutal but simple: fight and survive. Until the day she sees the impossible on the battlefield—her brother, fighting with the enemy—the brother she watched die five years ago.

Faced with her brother's betrayal, she must survive the winter in the mountains with the Riki, in a village where every neighbor is an enemy, every battle scar possibly one she delivered. But when the Riki village is raided by a ruthless clan thought to be a legend, Eelyn is even more desperate to get back to her beloved family.

She is given no choice but to trust Fiske, her brother's friend, who sees her as a threat. They must do the impossible: unite the clans to fight together, or risk being slaughtered one by one. Driven by a love for her clan and her growing love for Fiske, Eelyn must confront her own definition of loyalty and family while daring to put her faith in the people she's spent her life hating.
A kickbutt female protagonist who is trying to save her clan? Sounds awesome!


So, what upcoming books are you looking forward to? Please respond below!