Hello everyone! "Waiting On" Wednesday is a weekly event, that is hosted by Breaking the Spine and the purpose of this event is that we spotlight upcoming releases of books that we are excited for! This will also tie into Wishful Ending's Can't Wait Wednesday post!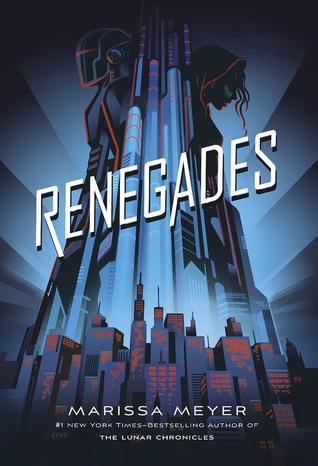 Title: Renegades
Expected Publication Date:
November 7th, 2017
Secret Identities. Extraordinary Powers. She wants vengeance. He wants justice.


The Renegades are a syndicate of prodigies—humans with extraordinary abilities—who emerged from the ruins of a crumbled society and established peace and order where chaos reigned. As champions of justice, they remain a symbol of hope and courage to everyone...except the villains they once overthrew.
Nova has a reason to hate the Renegades, and she is on a mission for vengeance. As she gets closer to her target, she meets Adrian, a Renegade boy who believes in justice—and in Nova. But Nova's allegiance is to a villain who has the power to end them both.
I've really enjoyed reading Marissa Meyer's books "Cinder" and "Scarlet" and I definitely can't wait to check this book out!
So, what upcoming books are you looking forward to? Please respond below!